It's been a strong past two days for the crypto market, especially Cardano. Following up on Bitcoin's 5% rally from its lows, ADA has gained 15% in the past 24 hours and even more in the past 48 hours. This makes it the best-performing cryptocurrency in the top 100 over the past 24 hours according to data from CoinGecko.
Cardano Could Continue Rally: On-Chain Analytics and Technical Signals
Cardano could continue its rally, a number of analysts have recently asserted.
Ali Martinez, a crypto-asset analyst, posted the chart below on September 22nd. It shows that at the time, ADA printed a Tom Demark Sequential "red 9" candle, suggesting it has room to recover to the upside.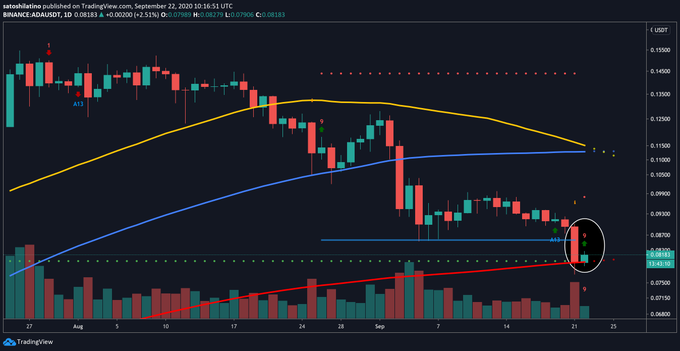 Chart of ADA's price action over the past few weeks with analysis by crypto trader Ali Martinez.
This was echoed by Santiment, a blockchain analytics firm.
The startup reported on September 25th that underlying the ongoing rallies in Chainlink and Cardano are being underpinned by an uptick in address activity and the number of tokens circulating:
"$LINK and $ADA have headlined a big bounce-back day for #crypto, coming at a time when many have been historically bearish on the #crypto markets. High token circulation & address activity seem to have foreshadowed this since yesterday's market close."
All Eyes on Bitcoin
While Cardano in and of itself may be primed to move higher, Bitcoin is likely to dictate the directionality of ADA moving forward.
Analysts are optimistic about Bitcoin as a number of trends align. Willy Woo, an on-chain analyst, recently wrote:
"Overall, I'm not expecting any mega dump, some chance of smaller whipsaws in the short timeframes, resistance is teetering. Not a bad time to get in if you're a spot investor, given the longer range macro. There's plenty of buy support below 10k, this is a buy the dip scenario."
Featured Image from Shutterstock
Price tags: adausd, adabtc
Charts from TradingView.com
Cardano (ADA) Surges 15% Higher: Here's What Analysts Think Comes Next