After starting last week rather weak, Bitcoin began to push higher into Friday and into the weekend, ending up pushing as high as $11,500. For context, the lows of last week came in closer to $10,400, far below the local highs.
While Bitcoin's upward momentum stalled on Sunday and Monday morning, analysts are still certain that the coin's short-term trend is bullish. One top investor in the space recently said that there's a good likelihood Bitcoin trades at $12,000 this week.
What may stop a Bitcoin rally, though, is news of a further delay to another fiscal stimulus bill in the U.S.  The bill is partially responsible for pushing BTC higher last week.
Bitcoin Prints Pivotal Weekly Close
Bitcoin ended up maintaining the technical supports in the low-$11,000s into the weekly close on Sunday morning. The cryptocurrency managing to do so, analysts say, will give it fuel to push even higher in the days ahead.
Crypto-asset analyst Josh Rager recently stated that he doesn't know why Bitcoin cannot push to $12,000 "this week," noting how it trades above the aforementioned supports:
Heck of a weekly close for Bitcoin. Price is back up in previous range prior to breakdown and personally, I don't see why we can't see $12k this week. Take it day by day, level by level.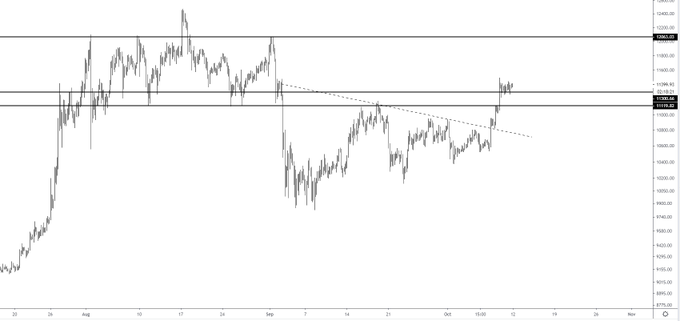 Chart of BTC's price action over the past few weeks with analysis by crypto trader Josh Rager (@Josh_Rager on Twitter). Chart from TradingView.com
It's worth noting that even if Bitcoin moves to $12,000 this week, it may correct in the next day or two towards $11,100. Due to weekend volatility, Bitcoin formed a CME futures gap between Friday's close of $11,100 and the opening price closer to $11,400. As 75% of CME Bitcoin futures gaps close within the week they open, there is a good likelihood BTC retests $11,100 in the days ahead.
Stimulus Bill Discussions to Determine Short-Term Price Action
Discussions around the next fiscal stimulus package are likely to drive Bitcoin's short-term price action, though.
The package is currently in a state of limbo as both sides attempt to determine what should be in the bill and what shouldn't. It has been reported that on Monday afternoon, U.S. Treasury Secretary Steven Mnuchin and House Speaker Pelosi will be in negotiations around the bill once again.
Featured Image from Shutterstock
Price tags: xbtusd, btcusd, btcusdt
Charts from TradingView.com
This Trader Doesn't See Why Bitcoin Can't Hit $12,000 Soon