From last week's highs, Bitcoin sustained a heavy correction into Saturday. The cryptocurrency fell from $16,000 to a low of $14,300, marking the first large correction of the recent uptrend.
The cryptocurrency has since bounced back as the markets have turned risk-on once again on news of a seeming Biden presidency. While the Nasdaq futures rallied 2%, Bitcoin has reclaimed $15,000 on a daily basis and now trades at $15,400.
The issue is that some investors don't think Bitcoin is out of the woods just yet.
Bitcoin Primed to See a Further Correction
Bitcoin could soon move lower as its on-balance volume (OBV) leans bearish. A trader shared the chart below, showing the indicator's trends over the past few months.
The indicator purportedly suggests that Bitcoin inflows are on the verge of slipping relative to outflows, which may trigger a correction:
"$BTC OBV now closing leaning a little more bearish. I've taken some profits from $14,400 spot on $BTC. I'm leaning towards another correction as we saw a pretty strong reversal from buyers to sellers. Not expecting too big of a drop, just maybe another correction."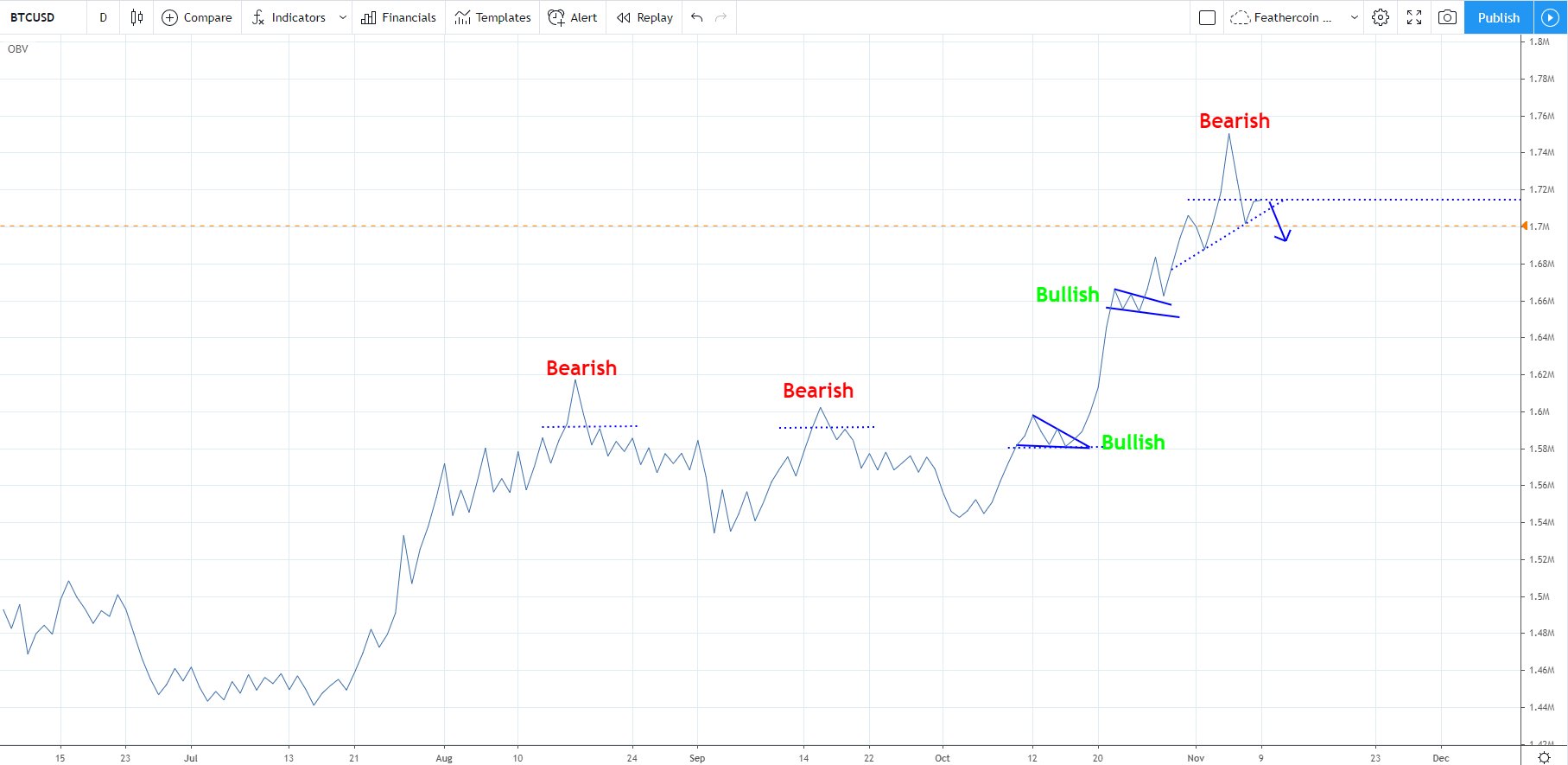 Chart of BTC's daily on-balance volume indicator over the past few months with an analysis by crypto trader Income Sharks (@incomesharks on Twitter).
Source: BTCUSD from TradingView.com
Adding to the expectations of a Bitcoin drop, the Crypto Fear and Greed Index remains at extremely high levels of 90 out of 100. This means that most investors are still extremely optimistic. While this does not imply that a correction will happen, it does indicate that one may be necessary to reset market expectations.
Expect $17,000 Next
Analysts say that $17,000 should be expected in the near future.
Brian Krogsgard, a cryptocurrency trader best known as Ledger Status, recently stated that Bitcoin's primed to move toward $17,000:
"I think there's a decent chance bitcoin breaches $17k and even into $18k in the next 10 days (next weekly candle). We are due for a decent mid timeframe blowoff and chill for a bit and wicking into the ATH cluster just feels so right… The path to $18k or ATH wick seems the path of least resistance. Nobody wants to sell until then and everybody is buying dips. Easiest way to create market balance is to do it quickly then let the market chop around a bit."
This was echoed by another trader, who noted that Bitcoin is currently trading in an Elliot Wave pattern that will likely resolve at $17,000.
Featured Image from Shutterstock
Price tags: xbtusd, btcusd, btcusdt
Charts from TradingView.com
Here's Why Bitcoin Could See One More Correction Before Its Uptrend