Litecoin has been one of the best-performing assets of the past 24 hours. The long-standing cryptocurrency has gained 20% in the past 24 hours, outpacing Bitcoin's 5% gains and Ethereum's 3% run.
This rally comes shortly after LTC was added to PayPal's new cryptocurrency service. Many saw this addition as validation of the cryptocurrency, which faced a strong correction after the 2017 bull market. LTC has still yet to recover to its all-time highs, though is up dramatically in the past few days and weeks alongside Bitcoin and other top coins.
Litecoin Explodes Higher
LTC has gained 20% in the past day alone as buyers finally step in.
Many have taken notice of this rally. Avi Felman, the lead trader at BlockTower Capital, recently shared this chart below, writing:
"Since BTC broke 16k, and the PayPal announcement, LTC has been outperforming BTC. Is this retail coming back into the markets or traders trying to front run retail?."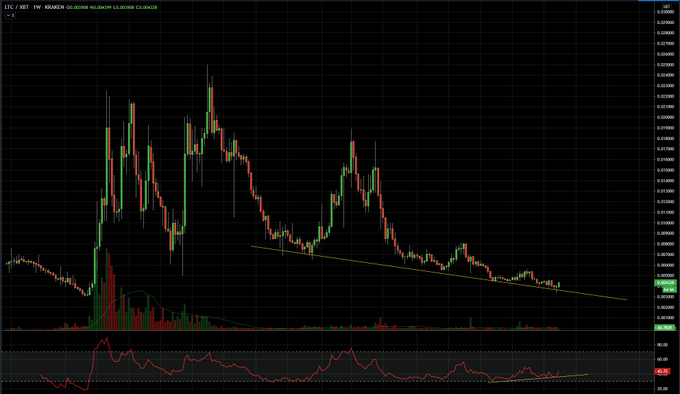 Chart of LTC's price action over the past few years against Bitcoin from TradingView.com
While Litecoin is surging right now, some don't think the coin has long-term value. Eric Conner, an Ethereum developer and analyst, recently stated on Litecoin and other cryptocurrencies:
"Zombie chains and DeFi protocols still need a massive relative repricing. Combined MC of XRP, BCH, LTC, DOT, BNB, ADA: $33bn Combined MC of UNI, AAVE, SNX, YFI, MKR, COMP: $4bn Right…"
Bitcoin Bullish, Boosting Alt Prospects
Bitcoin is bullish, which is boosting the prospects of altcoins such as Litecoin from here on out. Willy Woo, a prominent on-chain analyst recently commented on BTC's prospects, referencing on-chain trends.
"Realised Price estimates the average price the market paid for their BTC. Now at its steepest slope for this cycle, meaning capital influx into #Bitcoin is at its highest rate since the last bull market. (Higher than last year's $4k-$14k move; the current move is more organic.). For the sake of this comment I'll define 'organic'."
Litecoin stands to benefit from further strength in the cryptocurrency market.
It is currently unclear if the coin will pass its previous all-time high in this cycle.
LTC also has fundamental tailwinds, including the integration of privacy technologies, that will allow LTC to separate itself from Bitcoin.
Featured Image from Shutterstock
Price tags: ltcusd, ltcbtc, ltceth
Charts from TradingView.com
Litecoin (LTC) Surges 20% Higher as Bitcoin Pushes to New Yearly Highs