Mainstream news outlet CNN released an article titled, "Forget bitcoin. These cryptocurrencies are surging even more."
In it, author Paul R. La Monica points out that several large caps all outperformed the leading cryptocurrency during the recent spike.
"While bitcoin has soared 15% in the past week to hit a new all-time high just under $20,000, ethereum — the second-largest crypto after bitcoin — is up more than 20% in the past seven days.

Meanwhile XRP, the third-largest cryptocurrency, has surged nearly 25%. Litecoin, Polkadot, Cardano and Stellar, which are all among the top dozen biggest cryptocurrencies, have enjoyed larger gains than bitcoin, too."
The article's key takeaway puts forward the idea that investors should diversify into alts to lower risk and maximize gains.
Even though the Bitcoin maximalists would disagree with that message, the numbers don't lie.
With that, is the cryptocurrency market at the cusp of a new altseason?
Altseason Is Already Here
After three years in the works, Bitcoin managed to hit its previous all-time high this week. Based on historical cycles, this bodes well for the alts.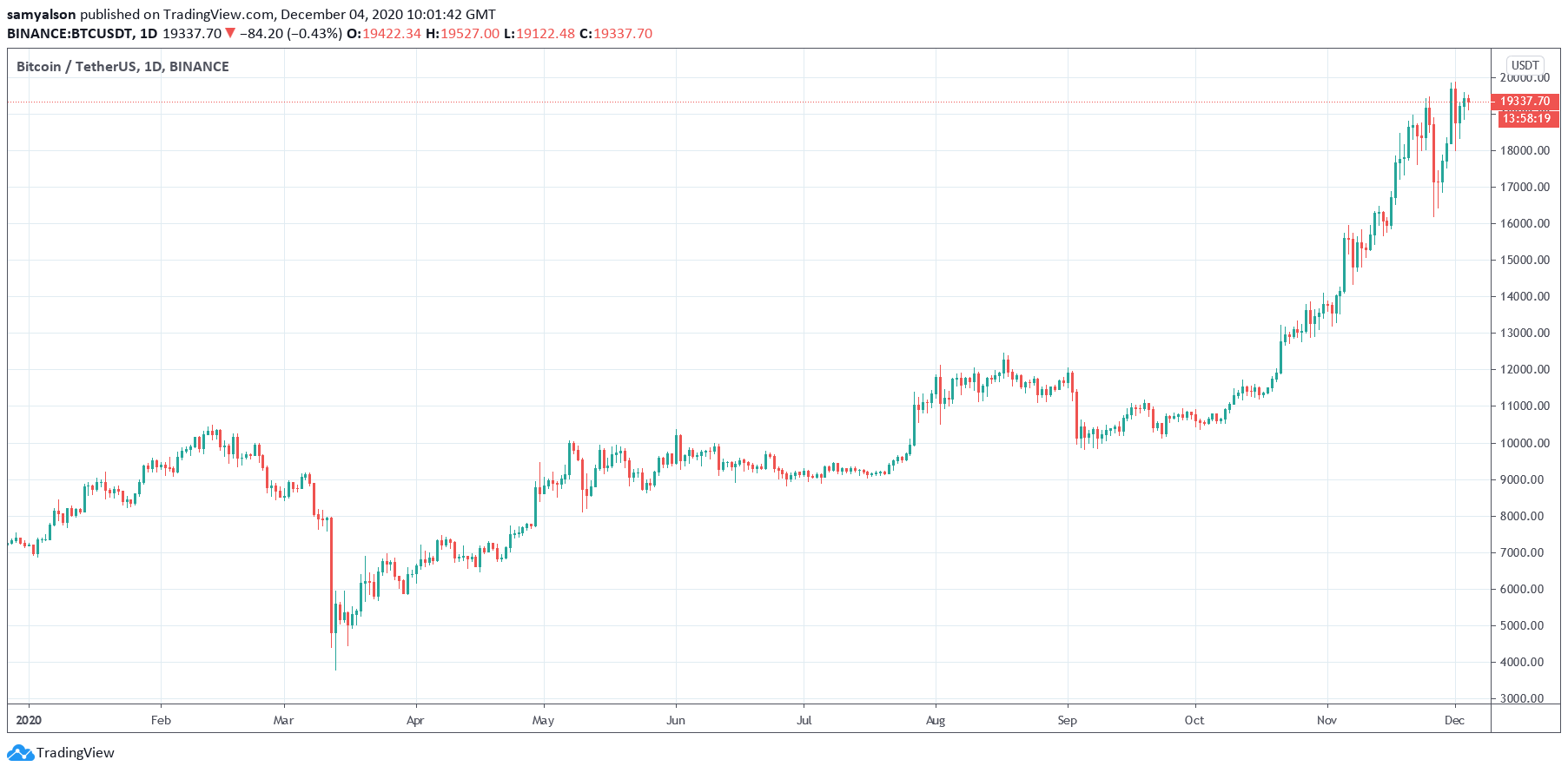 Source: BTCUSDT on TradingView.com
Although the exact definition of altseason is somewhat nebulous, most would agree that the last altseason fizzled out around the winter of 2017/18.
During 2017, we witnessed Bitcoin surging to ATHs, first $1.2k in March 2017, followed by several subsequent ATHs throughout the year, culminating with a $19.6k price in December 2017.
At the same time, during this run, alts were enjoying a boom that peaked with a total market cap excluding BTC of $475 billion.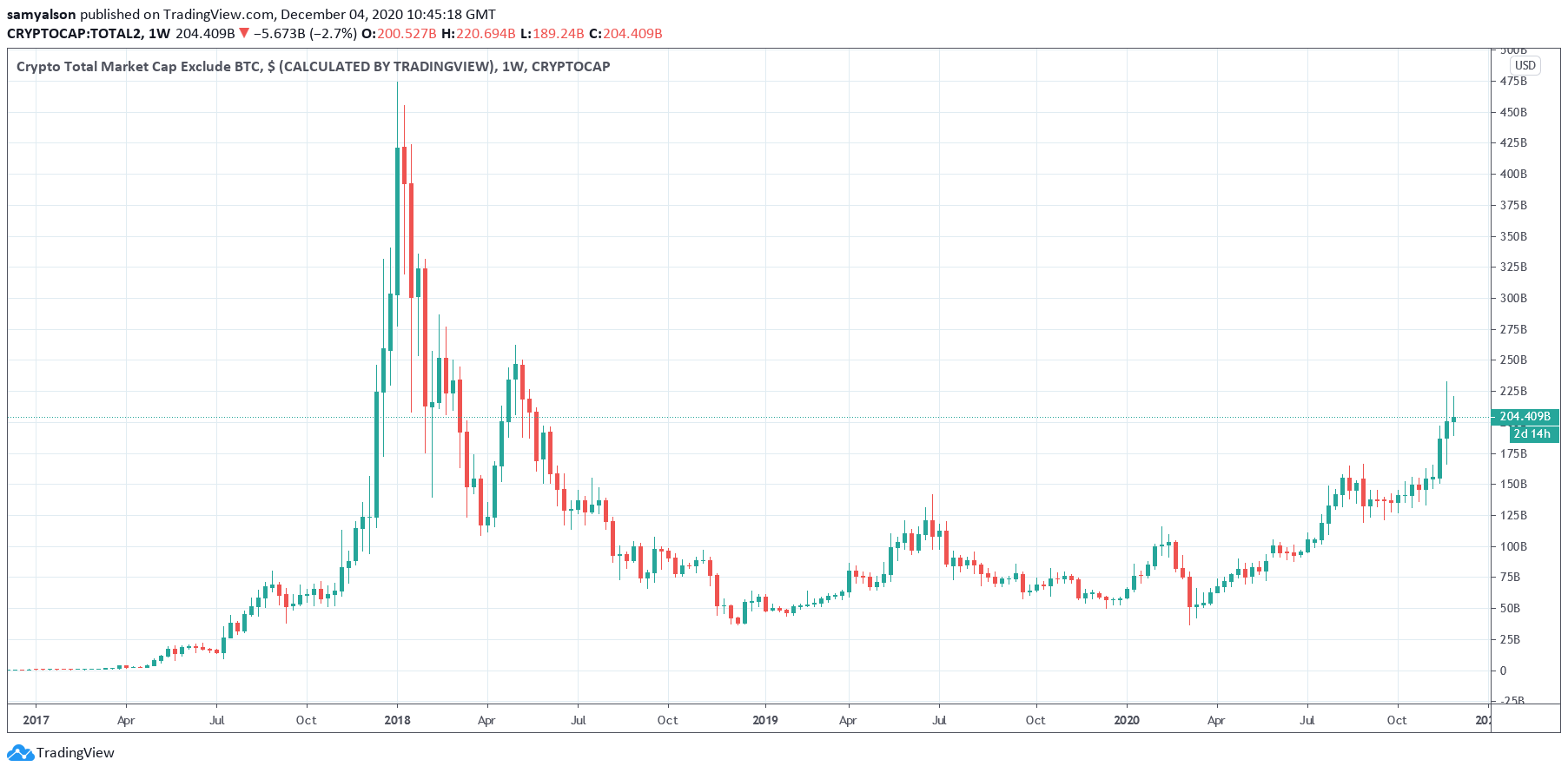 Source: Crypto Total Market Cap Excluding BTC on TradingView.com
If the same pattern plays out, we should expect Bitcoin to surge past $20k while making several new ATHs into 2021.
Analysis of the total market cap excluding BTC shows that we are at the beginning of an uptrend. Currently, this figure stands at $204 billion, meaning there is plenty of room to grow.
With that in mind, the data would suggest we are already in altseason.
Wait a Minute, Bitcoin Season Is Here
However, as mentioned, there is no exact definition of altseason, which can lead to disagreement on whether it is here or not.
According to blockchaincenter.net, for it to be altseason, 75 out of 100 selected alts must outperform Bitcoin over a 90 day period.
Source: Altcoin Season Index on BlockchainCenter.net
Currently, their data shows that only 14 tokens meet these criteria. Therefore, blockchaincenter.net concludes the market is deep in the depths of Bitcoin season.
Significant stand out performers includes Celsius, Waves, and XRP.
However, without an agreed-upon standard that defines altseason, there is no way to determine if we are actually in altseason.
Most go by feeling when refreshing their portfolio app. But that in itself is less than scientific.
So, in addressed the question, is altseason here? The answer is it depends on what you hold.