Launched in 2015, BitKong falls under the PlayHub banner and is the oldest of the company's three gaming sites, with LuckyDice and SimpleDice being its younger siblings. It attempts to dazzle players with a set of delightfully charming characters, some fantastic promotions, and one simple, yet innovative, and highly engaging game.
If you have ever set foot in one of the other two PlayHub platforms, then you know what you are in for design-wise, as all three share similarities. Navigation is easy on all of them. However, while the other two feature dice games, here, you get to guess your way up a tower, through five different difficulty levels, en route to fantastic payouts. You can fund your account using any one of the six most popular cryptos or take advantage of the free faucet or the demo mode to get a grip on things before laying down real money.
If you are a past BitKong patron and have neglected your favorite gambling ape in recent times, perhaps you remember the old design and are due for a trip to witness the facelift and all the improvements. BitKong is a platform that has maintained due to its simplicity and the fact that it provides quality gaming entertainment for players of all bankrolls. Login or register through a desktop or mobile device to find out that what we say is true.
Pros
Cons
 

●      Intuitive interface

●      Android app

●      Demo-play available

●      Free Faucet

 

●      Single-game only

●      Slow customer support

 
BitKong Games
No need for plural here, because as mentioned, BitKong only has one game. That said, it's one that you'll have a hard time locating elsewhere. If you're a fan of minesweeper, buckle up because you're in for a treat. BitKong allows you to climb up a tower, whose columns and rows depend on your chosen difficulty level. These are Easy, Medium, Hard, Extreme, and Nightmare. Naturally, better payouts come at the more difficult levels.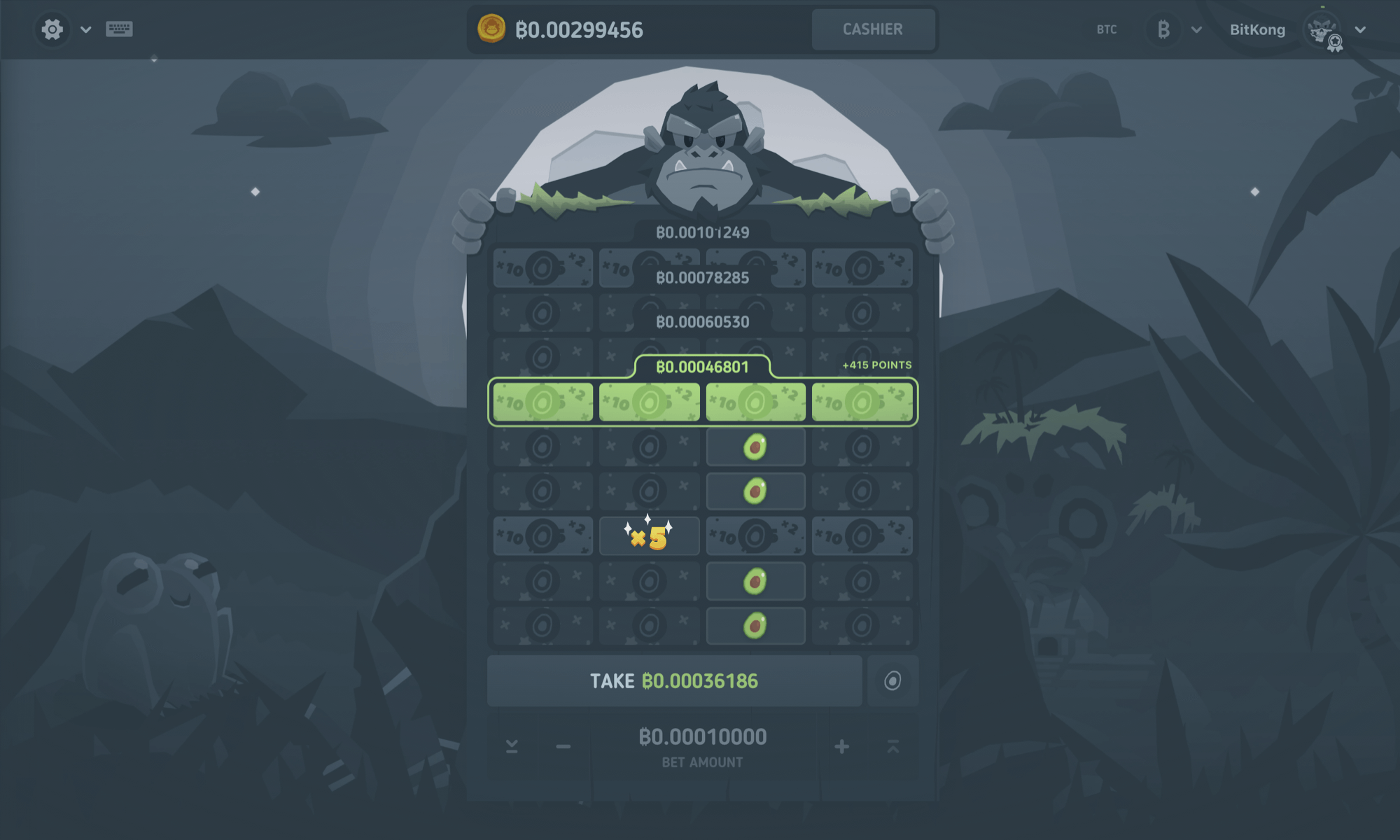 Once you have selected your level, you get your pattern of rows and columns, with the charismatic ape holding the grid with his strong hands, chin resting on top. For example, in the Easy mode, you get four columns and nine rows. Each row features one poop that you must avoid stepping in by selecting another option. Thus, you have four choices, and if you pick one of the three that's not the poop, you get to move up a row.
Know that there may also be a random multiplier in play and that the game has a house edge of 3%.
Software Features & Graphics
BitKong has a fairly simple interface that's super-easy to move through. The site's theme is full of desaturated greys and some greens. The game features cartoony flat illustrations, subtle animations, and background jungle sounds that you can turn off in the settings menu at the top of the navigation bar. We suggest that you do, as they get annoying.
Depending if you are on a desktop browser or are accessing the platform through a mobile device, the game will take up the right side of your window on the first or the whole screen on the latter. It only has a few buttons, and like every PlayHub game, it is easy to use.
BitKong is mobile-optimized. Meaning the play-on-the-go experience is smooth, and you shouldn't face any issues accessing the site from any mobile device, through any mobile browser. While the BitKong mobile version is close to perfect, if speed is what you are after, Android users should install the Android app of the site and get added convenience via super-fast load times.
Account
Creating an account with this platform is a breeze, as all you have to do upon registration is enter your email address. After entering your email, BitKong will send a six-digit code to your email inbox. You will have to head over to your account, write it down, or copy it, and enter it on the platform to login. That's all it takes. Easy Peasy.
The platform also tells you that it's a good idea to configure 2FA as soon as possible, which you can do by hitting your account drop-down menu in the top right and selecting the Two Factor Authentication option. You can also set up security keys using Yubikey, Trezor, or any FIDO2 compatible device. If you wish to customize your account, change your username or password, you'll have to click on the pencil icon on the same menu.
Deposits & Withdrawals at BitKong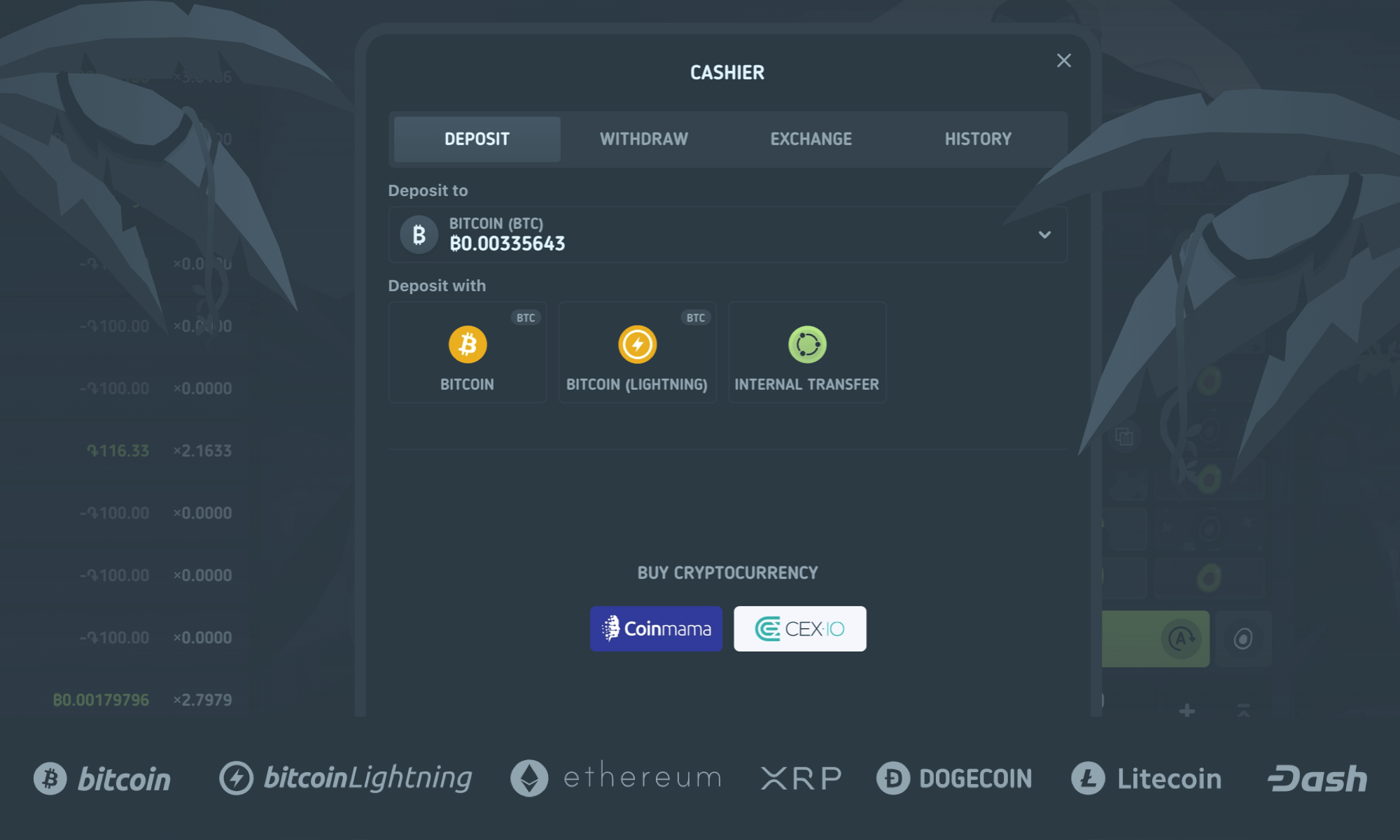 Seeing as many consider BitKong to be among the top old-school crypto gaming sites on the market, we expected it to allow the use of the most popular cryptos. As expected, we weren't disappointed when we opened up the cashier tab and saw the following cryptocurrency for both deposits and withdrawals:
Bitcoin
Dogecoin
Litecoin
Ethereum
Dash
Ripple
BitKong supports Bitcoin lighting as well as Segwit and Legacy Bitcoin addresses. To deposit, all you have to do is choose the cashier option in your account menu and select the deposit tab. Then, you'll have to hit the little arrow pointing down in the Deposit field and choose your crypto.
Naturally, different limits and fees apply to different cryptos. If you fancy yourself a Bitcoin user, then be aware that there's a minimum deposit limit of 0.001 BTC, and this deposit requires one confirmation on the blockchain. If you want to deposit less, you can, but there's a fee of 0.0001 BTC that you will have to pay.
When it comes to withdrawals, the minimum for Bitcoin is 0.001 BTC, but depending on your hurry, you can pay a fee of 0.0001 BTC if you are in no rush at all, or one that's five times more if you need your transaction to go through within five minutes. These fees vary from method to method, but they usually fall somewhere between 2% and 10% of your withdrawal amount.
Chat
BitKong offers players the possibility to communicate among themselves and share bets in a chat room available for registered users. Using the chat is pretty straight forward, but we recommend reading the chat rules before starting a conversation. In the near future, there will be a new feature that will be released within the chat room called Make It Rain, this gadget will allow users to shower other players with money.
Bonuses & Promotions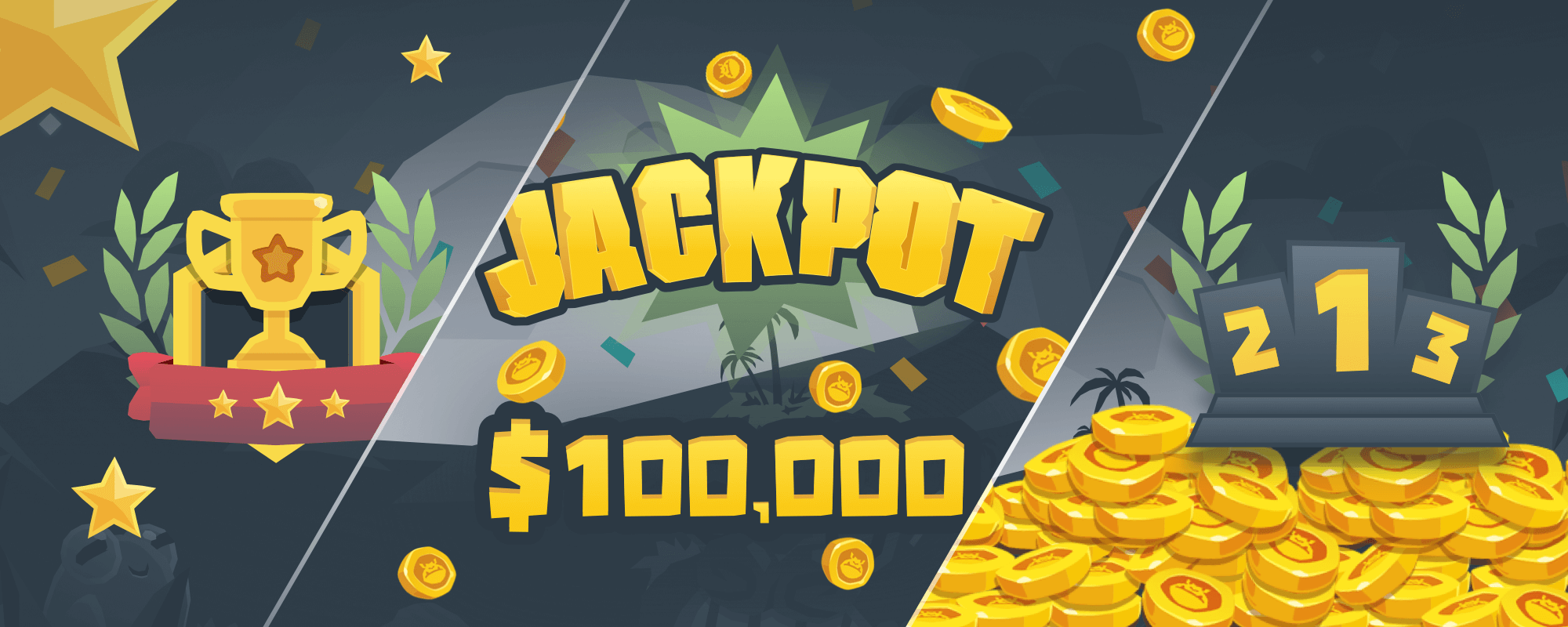 BitKong has several ongoing promotions in place, and although it features no deposit bonus, its intricate point-collecting scheme will entice you to join and will keep you playing. You can view everything that the site offers on the bonuses page, but since some features are not explained concisely, we suggest you give the FAQ a quick once-over. You can enter it through the Support link above the footer.
You should understand the definition of Points, and what credits are, as both are essential to your gaming experience at BitKong Bitcoin casino. Since the platform allows different cryptos, it uses Points as a medium to compare the betting activity of its players, a single betting metric. You attain ranks and achievements based on your point count. Credits, on the other hand, are how the site rewards players. Bonuses come in the form of Credits, which players can convert into cryptos.
Armed with this knowledge, you are ready to explore and learn how you attain ranks that can lead to cashback deals, how you can open Magic Chests, which provide random amounts of credits, and how you can get in on the leaderboard challenges or win the jackpot prize. BitKong also offers a pretty sweet referral program that can land you a daily commission of 0.3%.
After getting a full tour of everything BitKong has to offer, you should also know that there is more to come. The developing team announced they will include a feature to allow players to send money to each other through their profiles, and two new types of bonuses: Level Up, (based on the player's rank) and Recharge a possibility to request money which will be offered to loyal customers.
Support
If some of the things we explained above are not clear, or if you find yourself in a jam, facing an issue of some sort, we suggest first looking through the 22 FAQs. These hold answers regarding many common problems. However, if you do not find what you are looking for there, you should turn to the live chat function by clicking the lower right icon.
The platform runs 24/7 customer support for registered users through a support window available in the lower right corner of the page. The good news is that you should receive a reply within two hours tops, and the chat transcript will reach your email inbox as well, so there's no chance that you'll miss it.
For complaints or website vulnerabilities, the BitKong staff prefers that you send a detailed email to support@bitkong.com. They will try to provide a satisfactory resolution to your concern or thank you for your assistance in improving the platform.